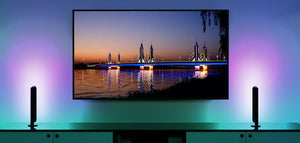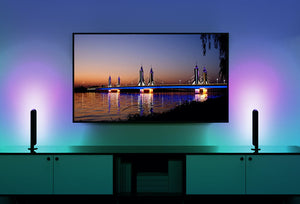 Symphony backlight effect
Symphony screen backlight|WIFI smart model
Symphony backlight change
Nordeco has launched a new multi-purpose illusion screen backlight, which allows you to display different mood lighting effects in a variety of ways. It can be used as a desk lamp for lighting, or it can be attached to the back of the screen as a backlight. In addition, this product supports the use of the same App control with our other WIFI smart lighting products, such as the Galaxy starlight or RGB floor lamp , which is more convenient and unified.
Multiple Variation Modes
The Nordeco Symphony Screen Backlight supports customizing the lighting colors of different parts through the App. You can set the entire lighting to be the same color, or you can set individual parts to display different colors.
In addition to the light color, the Magic Screen backlight also provides up to 7 color change modes, including gradient, breathing light, magic light and rainbow light, etc. You can save the mode after setting it yourself and use it at any time. The phantom screen backlight also has a variety of preset lighting modes for you to choose from.
App, remote control, voice control
Like many smart lighting fixtures, the Symphony Screen backlight also supports mobile app and infrared remote control, allowing you to easily control different lighting effects. In addition, you can also use voice control modes, such as SIRI shortcuts, Amazon Alexa and Google voice control, etc.
Lay flat, stand upright and back-mounted modes
The backlight of the magic color screen can be used as a desk lamp when placed flat or upright on the table. The backlight comes with a dedicated upright base. You can also use the attached stickers to stick the backlight on the back of the computer screen/TV as a backlight.
music mode
The phantom screen backlight provides a total of 4 music change modes, and the light will change with the fluctuation of external music. You can use the built-in acoustic elements of the smart phone/backlight to sense external music, creating a wonderful interactive effect with movies/music.
Product parameters
Brand: Nordeco
Power supply: 5v2a USB power supply
Product structure: one to one group
Product size: The length of the left and right sides is 95cm each, and the connecting line in the middle is 115cm long
Connection method: WIFI 2.4ghz and infrared remote control Mobile phone operating system: IOS and Android system
*App uses WIFI 2.4ghz connection, if the usage scene does not provide WIFI, you can use the remote control.

Smart lighting combination
Nordeco Home
Nordeco smart lighting products are developed through the TUYA system, you can use the same APP to control multiple different products and enjoy the same experience.
The backlight of the magic color screen needs to use WIFI 2.4ghz connection to use App control. If the usage scene does not provide WIFI, you can use the remote control.
Starlight supports most smartphones, including iPhone and Android phones.
Symphony screen backlight does not natively support HomeKit, but it can be connected through third-party software such as Homebridge.
Yes, the backlight of the magic color screen supports a variety of monochrome and magic color changes, and you can control it through the App and the remote control.
Yes, there is an infrared remote control attached.
The backlight of the magic color screen supports 3 installation methods. You can choose to stand upright, lie down or stick it on the back of the screen. The set includes a back sticker and a bracket.
Nordeco's products are all in line with Taiwan voltage 110V plug / 5v2a USB plug, plug and play.
All products (except customized products) enjoy a 30-day return service. (*The product must not have been opened and used) Please read our return policy for details.
We accept payment by credit card (AE, VISA, MasterCard) or via Shop Pay, Apple Pay and Google Pay, Paypal, bank transfer and cash on delivery.
Yes, we support cash on delivery. Due to the large size of some products of our company, only home delivery is supported, and supermarket pickup/payment is not supported. The cash on delivery service is only available for customers in Taiwan Island. The courier will notify you when the delivery is ready, and you need to pay in cash when receiving the delivery.
If your products need to be imported from overseas, according to the requirements of the Taiwan government, all imported products need to be registered by the recipient on EZ WAY for customs declaration. For details, please read this website. https://web.customs.gov.tw/multiplehtml/3150
Most orders don't require it, but if your item needs to be imported from overseas, you may still have to pay customs duties.
Please read our tutorial and video on the connection of the starry sky light. It is basically the same as the backlight of the magic screen, but you need to press and hold the switch on the power cord until the light flashes. If there is anything you don't understand, please feel free to check

teaching:
https://www.nordecotw.com/pages/starlight-projector-app-connect-instruction
contact us
You can also Line our official account: @nordeco_taiwan