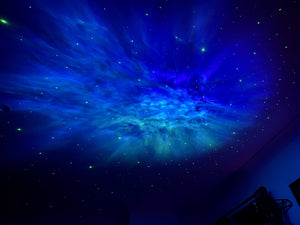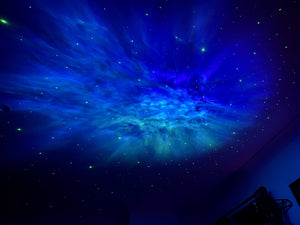 Galaxy starry sky lamp|WIFI smart model
The dreamy starry sky that can be touched
Nordeco Milky Way Starry Light puts the gorgeous starry sky and the Milky Way into a small starry sky projector, so that you can watch the wonderful colorful starry sky through the starry sky light at any time.
incredible galaxy effect
Nordeco Galaxy Starlight (WIF control type) can control the color, light and darkness and changes of a variety of galaxies through the APP, easily matching your various atmospheres and needs.
The galaxy effect has a variety of colors to choose from, matching your home design and preferences, creating a romantic galaxy effect at any time.
APP control function
Custom changes and scene modes <br/>You can choose different nebula color combinations and changes, and set changes at any time with the scene modes on the APP.
Timing mode <br/>You can set the projection time of the starlight in the App, for example, set a projection time of two hours before going to bed, and it will automatically turn off after going to bed, without wasting power or affecting sleep.
Support voice control and SIRI shortcut
Nordeco Galaxy Starlight (WIF control version) supports iPHONE Siri voice control, easy to control the switch, brightness and color change through voice.

Product parameters
Brand Nordeco
Power supply 5v2a USB power supply product weight 810g
Connection method WIFI 2.4ghz
Operating system IOS and Android system

*The color of the star is green and cannot be changed
*App uses WIFI 2.4ghz connection, if the usage scene does not provide WIFI, please choose the remote control model.

Smart lighting combination
Nordeco Home
Nordeco smart lighting products are developed through the TUYA system, you can use the same APP to control multiple different products and enjoy the same experience.
Nordeco starlight requires WIFI 2.4ghz connection.
If the usage scenario does not provide WIFI, two phones can be connected, one phone turns on the WIFI hotspot, and the other can connect normally after connecting to the hotspot.
In addition, as long as your starry sky lamp has successfully connected to wifi, as long as you change the hotspot wifi data of your mobile phone to the same as the wifi name and password of the first connection, you only need a mobile phone to open the hotspot wifi use.
Starlight supports most smartphones, including iPhone and Android phones.
The Galaxy Star Light does not natively support HomeKit, but it can be connected through third-party software such as Homebridge.
Yes, the Milky Way starlight supports a variety of monochrome and magic color changes, and you can control it through the App.
No, it can only be controlled by mobile phone.
The Galaxy Starlight uses projection technology to project the starry sky. The farther the distance, the better. The recommended space is about 10 pings.
Nordeco's products are all compliant with Taiwan's 110V plug, so they can be used as soon as they are plugged in.
All products (except customized products) enjoy a 30-day return service. (*The product must not have been opened and used) Please read our return policy for details.
We accept payment by credit card (AE, VISA, MasterCard) or via Shop Pay, Apple Pay and Google Pay, Paypal, bank transfer and cash on delivery.
Yes, we support cash on delivery. Due to the large size of some products of our company, only home delivery is supported, and supermarket pickup/payment is not supported. The cash on delivery service is only available for customers in Taiwan Island. The courier will notify you when the delivery is ready, and you need to pay in cash when receiving the delivery.
If your products need to be imported from overseas, according to the requirements of the Taiwan government, all imported products need to be registered by the recipient on EZ WAY for customs declaration. For details, please read this website. https://web.customs.gov.tw/multiplehtml/3150
Most orders don't require it, but if your item needs to be imported from overseas, you may still have to pay customs duties.
contact us
You can also Line our official account: @nordeco_taiwan